Reward Points ⭐️
You could earn 164 points from this item.
Learn more
.
Description
LiteRadio 3 Radio Transmitter is the newest remote control in the LiteRadio series. This transmitter features an ergonomically designed handle and has superb performance in its working time, newly updated gimbal, and multi-protocol support (Frsky version). Besides, this version supports BETAFPV Configurator which is a utility designed to simply update, configure, and tune the radio controller.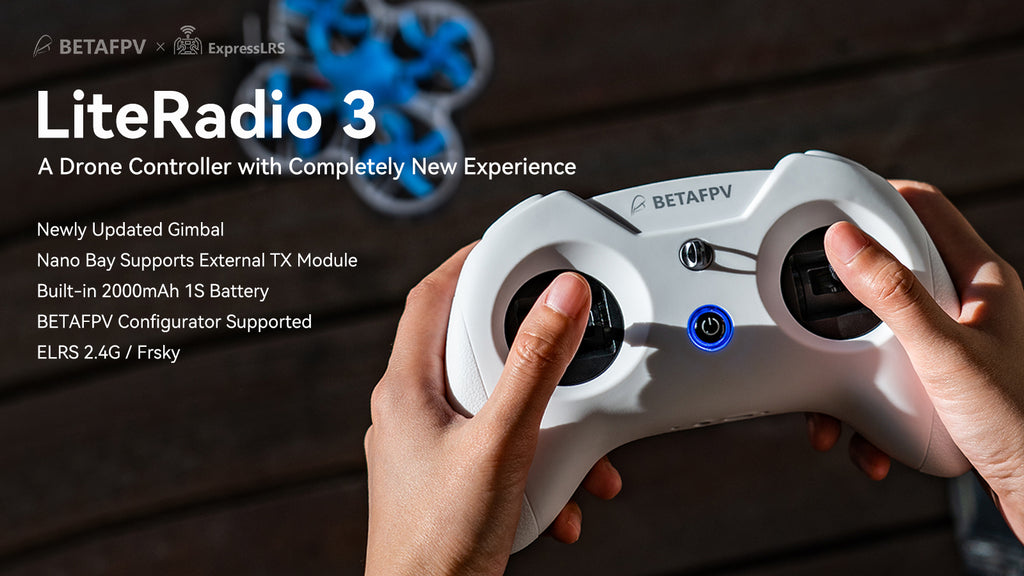 Download the BETAFPV Configurator.
LiteRadio 3 is a remote control radio transmitter designed primarily for RC models, including multirotor, airplanes. It gives you more than you ever thought possible from an entry-level 8-channel radio.
8 channels in total.
USB Joystick support for most practice simulators.
Nano module bay for external TX module.
Newly designed joystick gimbal for longer usage life.
Support BETAFPV Configurator for updating, configuring, and tuning.
Provide ExpressLRS 2.4G protocol version and Frsky protocol version for option.
Built-in 2000mAh battery and USB charge supported.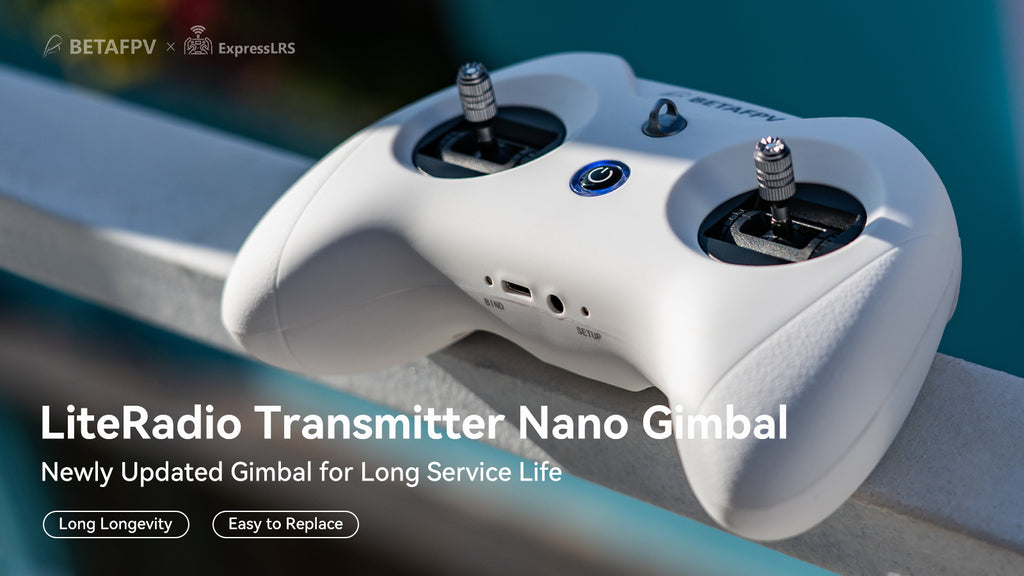 Bullet Point
LiteRadio 3 upgrades with BETAFPV self-developed

 

Customized

 

LiteRadio System. Pilots can directly operate the Joystick Calibration and Firmware Update on the radio transmitter, which is more convenient for the beginner racer to operate.
Equipped with a built-in 2000 mAh 1S battery, LiteRadio 3 can work up to 15 hours without an external module, bringing an excellent endurance performance. 
Comes with a built-in charging module, LiteRadio 3 supports USB charging which is more convenient to use. Meanwhile, it designs a Low-Power warning to indicate a low battery. It indicates a low battery and needs to be re-charged if the blue light flashes slowly and the buzzer beeps continuously.
Newly designed with a nano bay, it supports the external TX module. Highly recommend

 

BETAFPV ELRS Nano Module, which is compatible with the LiteRadio 3 radio transmitter and makes CRSF protocol available.
Adopted the rubber coat, LiteRadio 3 is ergonomic and has the shape of a gaming controller. It's comfortable to hold, and the anti-slip texture on the handles allows for a solid grip.
It is the safest and quickest method to get started by using a model practice simulator for starters. LiteRadio 3 radio transmitter supports most of the simulators on market with comprehensive configuration.
Specification
Item: LiteRadio 3 Radio Transmitter
Frequency Range:

 

2.4G

2.4G System: 

CC2500/SX1280

Channel: 8
Support Protocol:

 

Futaba S-FHSS

/Frsky FCC D16/Frsky LBT D16/Frsky D8, ExpressLRS 2.4G

Power: ELRS version 

25mW/50mW/100mW, Frsky version 100mW

Adapted Drone Type: Multirotor, Airplane

Support USB Charging / Firmware Update

Support BETAFPV Configurator / Most Practice Simulator

LED Light: Green-Power On / Red-Warning if the voltage is lower than 3.5V / Blue-Normal
Battery: Built-in 2000mAh 1S Battery
Charging Connector: USB 3.0 Type-C
How to switch the protocol
Note: Switching internal protocol is only available for the Frsky version radio transmitter. ExpressLRS version can only switch to the external TX module.
To change protocols and TX module, here are the steps:

Power the radio transmitter off;
Press and hold the BIND button while powering the radio transmitter back on;
Then the flash color and times of the LED before buzzer alarms will change, according to the tables above.
The Frsky version could support 4 different internal protocols, including Frsky D16 FCC, Frsky D16 LBT, Frsky D8, and Futaba S-FHSS. The protocol is indicated by the flashing times of the LED when power on, before the buzzer alarms.
Internal 

Frsky D16 FCC (ACCST 1.X Version)

Internal 

Frsky D16 LBT (ACCST 1.X Version)

Purple Flash Three Times Quickly

Internal TX Module Off and Run External TX Module
I

nternal 

ELRS

Purple Flash Three Times Quickly

Internal TX Module Off and Run External TX Module
Note: LiteRadio 3 Frsky version only works with D16 ACCST 1.X Frsky protocol. So if you use a Frsky receiver with D16 ACCST 2.X version or ACCESS version, the binding will fail.
Diagram of LiteRadio 3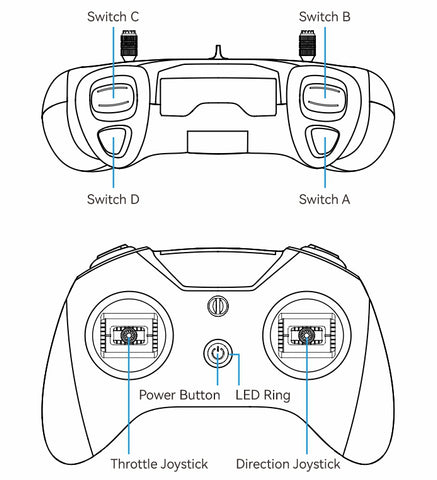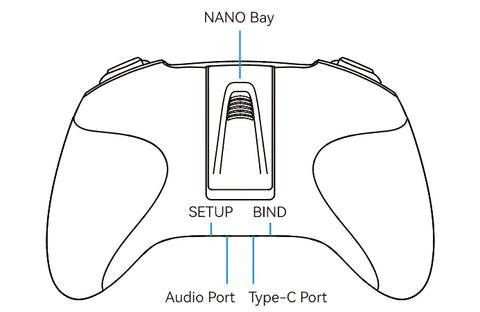 FAQ
Manual

 

for LiteRadio 3 Radio Transmitter
How to replace the gimbals of the Literadio 3 transmitter?
For any questions about joystick calibration of the LiteRadio 3 transmitter, please watch the following video to know more. The instruction is the same for both LiteRadio 3 and LiteRadio 2 SE.
Package

1 * LiteRadio 3 Radio Transmitter
1 * 

User Manual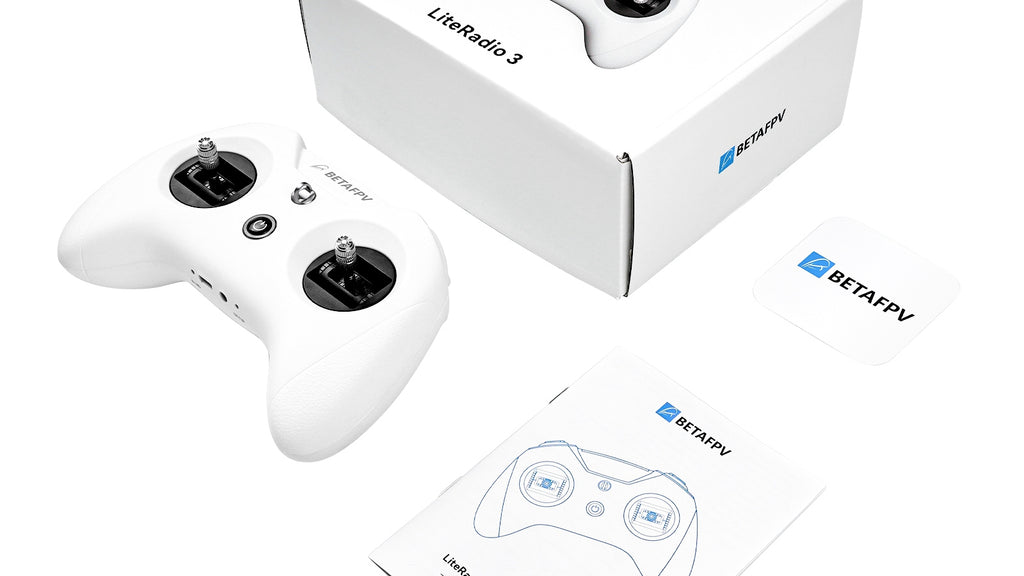 Product Details
| | |
| --- | --- |
| Product Type | Transmitter |
| Shipping Weight | 390 grams |
| Vendor | BetaFPV |
Found it cheaper elsewhere?
Customer Reviews
Did you know that you could earn 50 reward points for every product review left and an additional 25 points for also adding a photo? Learn more.